Busselton Tour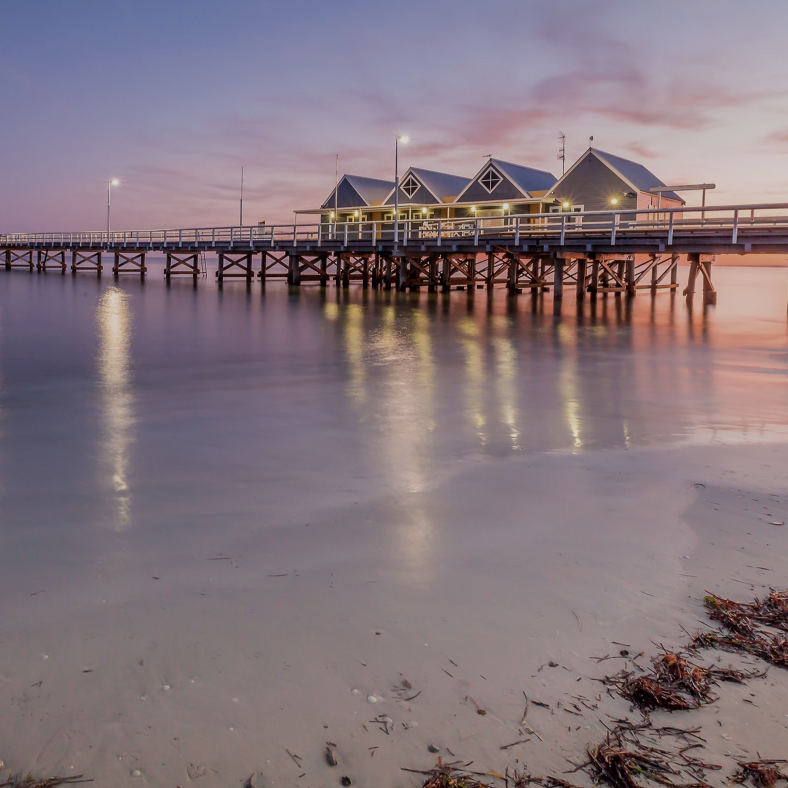 Duration: 7 Hours (approx.)
Product code: PGRV5Z
Get ready for endless beaches, impressive views and the best man-made attraction in the South-West!

Tour Overview
Minimum of 4 Adults on this tour. Individuals please contact us via our website enquiry form.

7 Hour Tour
10:00am - 5:00pm Door to Door
Our tour begins with a scenic estuary drive out of Mandurah. You'll need walking shoes for some light exercise, as we pay a visit to some pre-historic living rocks! The fascinating thrombolites are the oldest known living bacterial life form, surviving after millions of years of existence.​
We rejuvenate on our stop for morning tea at a quirky café before heading to enjoy the iconic Busselton Jetty; It's an unprecedented opportunity to walk or train from the sheltered shore to almost 2 kms out into Geographe Bay. Visit the observatory, the museum and, if time permits, explore more of Bussleton. We lunch at a modern waterfront venue, with an upbeat vibe and outdoor seats with a spectacular view of the waterfront.
Then off we head to one of the most spectacular and photographed sights of the northern Cape. Sugarloaf Rock's lookout point is an impressive and spectacular ocean view and a must see! It's a popular spot to see Humpback and Southern Right Whales during the migration season, dolphins and seabirds. Pack your binoculars!
An Epic Day with opportunity for some Epic photo opportunities.​
Please Note; When purchasing a tour (outside Mandurah), additional transport cost (per group only) applies for transport from Perth City, Perth Airport or from outside our Mandurah pick up area, maximum 100km, please add by selecting 1 only; 'Group Additional Transport', when booking a tour for your group for door to door. Arrangements will be made to collect you.

For solo and small groups. Please contact us.

Tour Price includes: Pick up from Mandurah location, morning tea, lunch, bottled water, Bussleton Jetty & Train ride & Observatory, scenic drive, and Epic Day photo opportunities.
​Before booking, we recommend contacting us to discuss travel dates and availability. Bookings are pending until confirmed by supplier.
Contact us via our website for further information or assistance.

Itinerary may change without notice should unforeseen events arise. Make an itinerary of your own for your group, and we will take you there. Contact us for any queries! Ask about our 'Bus + Driver' only option.